Ceramic Substrate
Widely used for Electronics Application
Now the electronic and information technology get more and more integration, micromation and multi-function, so the productions of electronic technology should also be developed smaller, lighter, thinner, having higher stability, higher speed and more functions. Especially, to meet the need of surface mounting technology (SMT) and the trend of using multilayer, microchip, integration, module and multi-function in functional ceramic devices.
Bochuang Ceramic now produce high performance alumina and high thermal conductivity AlN ceramic substrates at all specifications and will produce other microchip and multilayer functional ceramic devices in the future. The technical source of manufacturing high performance 96% alumina and high thermal conductivity AlN ceramic substrates is the research result of the state key laboratory of advanced ceramics and fine processing. Its main characters are:
1. To prepare the tape casting slurry using a none- toluene mixed solvent, which can reduce environment pollution, can help to control the tape casting molding easily and improve the flan quality.
2. To get the AlN ceramic substrates with the thermal conductivity higher than 180W/m•K, using the <1700℃ low-temperature sintering method, which can help to control the flatness and roughness, reduce the grain size, improve the substrate's flexible strength and thermal shock resistance. High performance alumina ceramics substrates mainly are used in all specifications of high precision applications of HIC, chip resistance, network resistance, assemble potentiometer, semiconductor refrigerator and power module.High thermal conductivity AlN ceramic substrates are used in the applications of high density HIC and encapsulation, power module and high effective radiator.
We can also offer manufacturing and machining substrates in all custom specifications.
Materials properties of 95% Al2O3 Ceramic Substrates
Characteristic

Test condition

Unit

Fine class

Qualified

Color

White and dense

White and dense

Average grain size

μm

3-5

3-5

Density

g/cm3

≥3.74

≥3.70

Water absorption

%

0

0

Vickers hardness

Loaded 4.9

Gpa

≥15

≥15

Flexural strength

Crooked distance 80mm

Mpa

≥320

≥300

Linear expansion

20-500℃

1×10-6mm/℃

6.5-7.5

6.5-7.5

coefficient

20-800℃

6.5-8.0

6.5-8.0

Thermal conductivity

20℃

W/(m.K)

≥24

≥20

Dielectric strength

KV/mm

≥12

≥12

Bulk resistivity

20℃

Ω.cm

≥1014

≥1014

300℃

≥1011

≥1011

500℃

≥109

≥109

Dielectric constant

1MHz

9.3-10.6

9.3-10.6

Dissipation factor

1MHz

3×10-4

3×10-4

Thermal shock resistance

850℃

Cycle

≥7

≥5

Surface finish

Ra(λ2)

μm

0.20-0.75

0.20-0.75

Substrates for Thick Film Applications
Regular size: length≤152.4mm, width≤108mm
Regular thickness: 0.25 - 1.0mm Our substrates have excellent thick film reliability and precise dimensional tolerance control (super premium: ±0.25%). They are cost effective for through-hole processes with small diameter holes (min. 0.2mm) allowing densification of precision circuitry. We can provide all kinds of specification high quality substrates according to customer's demands, which are produced by laser scored and mould punched. The technical indexed refer to "Main technical indexes and size specifications of ceramic substrates."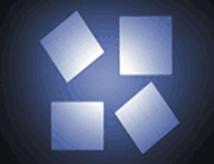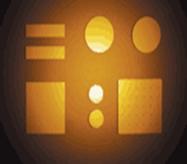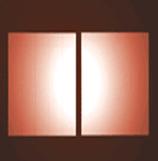 Substrates for Focalized Potentiometer


96% alumina ceramic substrates are produced by tape casting, which have many features such as good conformity, smooth and flat surface and easy to printing, whose thermal conductivity is higher than 95% alumina ceramics. So it's very suitable for potentiometer.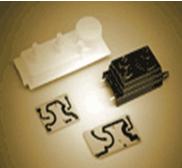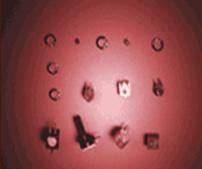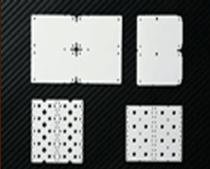 Substrates for Chip Resistance Applications
The dimensional precision of scored product is ±0.3mm, and which of the arranged one is ±0.05mm. We provide exact assemblies for chip resistance manufacturers to help their silk-screen operating properly and to improve their product eligible rate.
Mainly assembled specifications are the series of chip resistances of 1206, 0805, 0603, 0402 etc.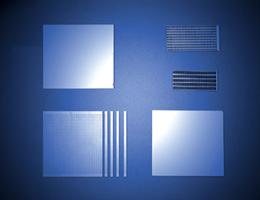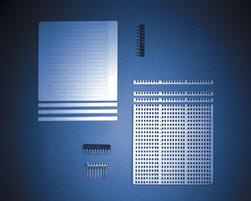 Alumina Substrates for Refrigerator Applications
We can manufacture all kinds of specification alumina substrates for refrigerator applications, including various outer sizes, graphic arrangements and electrode numbers.